A gift from nature - Grass
We could now convert grass to our energy needs and a lot more ...
What is the Grass Factory, and it's Aims?
ShivOm Dayal Energy proposes to provide circular green economy to farmers. The process of circular green economy is that the farmer would provide grass to the grass factory. In return The farmer gets additional income from waste crop produced on waste land.
Grass is seeded once in 6 years and can be harvested 5 times a year with total yield of approximately 240 tons per hector per year, Further the grass factory generates power by using grass as raw material for power generation.
This renewable electricity is provided round the clock to the farmer on subsidised rates, and this biomass electricity is the most suitable renewable energy as it doesn't have the drawback of the renewable energies such as solar power which can only be provided when there is sun light. Also this electricity contributes to our honourable prime minister Shri Narendra Modi's target to generate175 Gigawatts of renewable energy by 2022 and 12 GW of energy by the end of 2016.
Bio CNG is also produced by fermentation of grass and used as a substitute of LPG and supplied to farmers at subsidised rates for cooking and vehicle fuel. And it also contributes to our honourable prime minister Shri Narendra Modi's vision to replace fire wood cooking with CNG cylinders.
The leftover residue of grass is converted into Urea bio-organic fertiliser at subsidised rates which is better than the chemically produced fertiliser and helps the farmers land to be more fertile. And this contributes to our honourable prime minister Shri Narendra Modi's policy to provide fertiliser at low cost to farmers.
The society and the farmer is further benefited by production of grass fibre board made from the fibres extracted from grass. These boards are used for building houses in villages. These boards will keep the houses cool in summers and warm in winters additionally these boards are very light in weight and in case of an earthquake they will not cause any damage also these boards are fire resistant and fungal resistant and are most suitable solution for low cost housing in remote areas and hilly regions and they are a substitute for mud houses in rural India. And this contributes to the Pradhan Mantri Jan Awas Yojana.
Additional value addition from the leftover residue grass fibres can be used for blending with thermo-plast resins for making bio degradable plastic which is compostable and a environmentally friendly substitute of fossil fuel based plastic.
The water used in the complete process is circulated hence very less water is used in the process.
The grass factory provides employment for local workers. The grass factory is a complete value addition to the economy. And the entire process will contribute to the our honourable prime minister Shri Narendra Modi's Make in India scheme, upliftment of farmers and the poor in rural India, Skill India and will provide a lot of employment.
Video: The Grass Explained
Video: Circular Green Economy Explained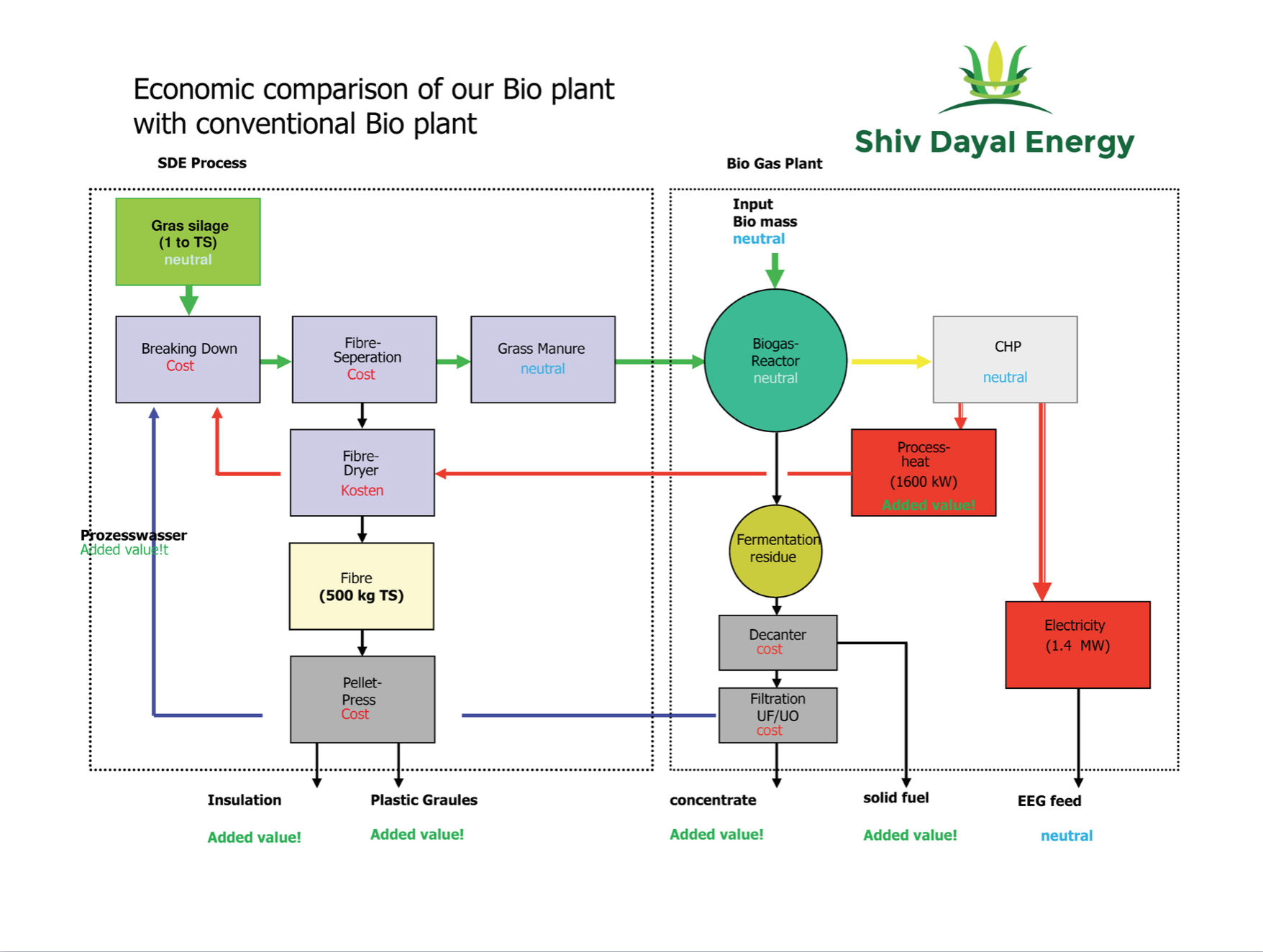 Advantages of using manure and waste as substrates for biogas
Reduction of waste volume by 50-80% (depending on share of biowaste)

Production of organic fertilisers and reduction of mineral fertilisers by closed nutrient cycles (e.g. phosphorus)

Sustainable energy production and substitution of fossil energy carriers

Increasing independence and security of energy supply

Reduction of greenhouse-gas-emissions (by substitution of fossil energy carriers and mineral fertilisers, avoidance of methane emissions digesting manure and biowaste)

Creating jobs
Advantages of Insulation Sheets
Building class B2, 4.3

Thermal conductivity: 0.042

Heat Insulation 

Indoor Application- wall, floor, roof 

Blow-moulded and injection-moulded goods 

Promotes natural room environment particularly summer grade insulation 

No CFC, No volatile organic compounds (VOC)

Ecologically proper and natural disposal, 100% sustainable  
Advantages of Bio Composite
Easily assessable cellulose from Nawero grass.

Friendly production of granules in pellet mill

High fibre content (50 -75%)

Medium mechanical properties for injection moulded   applications and extrusion

Good flow properties, normal cycle times

Odour low because of purification of the fibres 

Low price

Sustainable manufacturing

Appealing semi-natural design, good colour

Residue-free disposal during combustion, recyclable

Improves the shape stability, the rigidity and the abrasion resistance of the mouldings

Reduces the weight of mouldings  
Electricity from CHP for power

CNG

Heat from CHP for grass refinery

Process water for grass refinery

NPK fertiliser for agriculture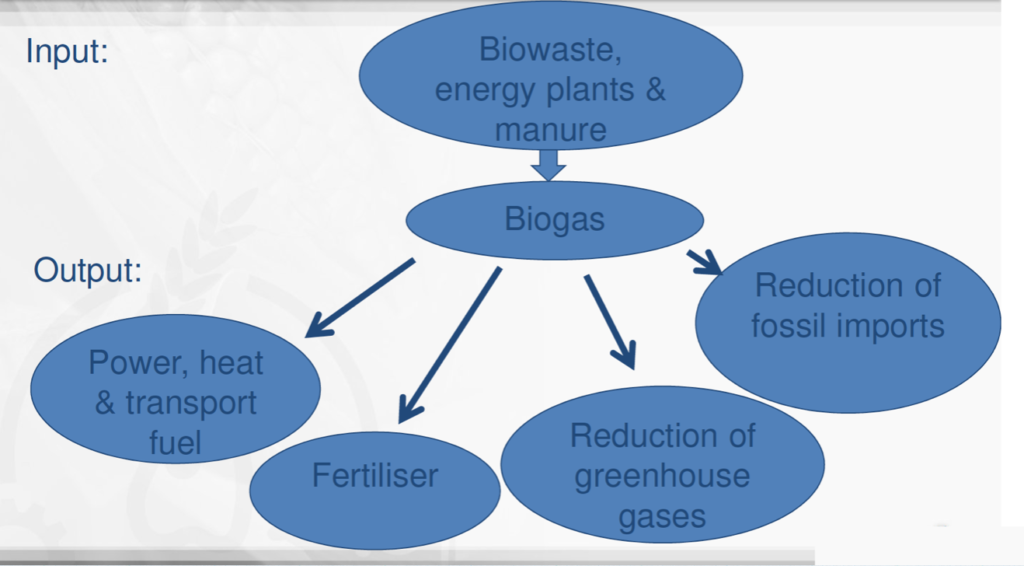 Summary:
Circular Economy + Optimal interfaces = Sustainability: The product and The process